Some people find baking or painting therapeutic, others do yoga or tai chi. I'm into hardcore retail therapy. At least once a week I go all by myself and disappear into the racks and shop as if my life depended on it. Compared to the big life decisions, deciding if I
want shoes in black or leopard print is a welcome choice. Nobody needs anything from me, there are no little children screaming at me or throwing chocolate milk at me. it's just me doing something for me that feels good to ME.
I know it's a cliche – the shopping Beverly Hills housewife. I'm fine with that.
I definitely have a philosophy when it comes to what I wear. I might get blasted for saying this, but it wouldn't be the first time that happened: There is no reason to dress like a homeless person when in fact you are actually a stay at home Mom.
It's just as easy to put on a cute top and jeans as it is to put on sweats and an oversized T-shirt. Chances are you won't find me out wearing my husband's XL College Jerseys and old flip flops. I read a lot of magazines and I look around at what other Women are wearing. I don't usually buy an item unless it will be worn more than once and it has to feel like "me." My friend Laura is always asking me What I've bought lately, so Laura, this post is for you.
Here are the last four things that followed me home:
J. Crew Anchor Shirt – What do I do with it? Wear it with light wash wide leg Hudson jeans and cork wedges.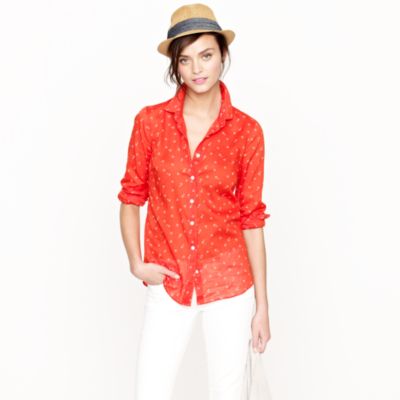 Parker Jumpsuit- What do I do with it? Wear with sky high beige Loubotins for night or neon sandals for day. Add a bra and some jewelry and your good to go.
Studded Pumps – What do I do with them? I just got these yesterday, so I haven't done anything yet. But, I plan on having lots of fun in these shoes.
Splendid Cotton TeeWhat do I do with it? I do everything with this shirt. Put it with black leggings and boots or under a blazer for Dinner. It's fitted but not too fitted, the perfect shirt.
http://www.saksfifthavenue.com/main/ProductDetail.jsp?FOLDER%3C%3Efolder_id=2534374306418048&PRODUCT%3C%3Eprd_id=845524446408464&R=886392130149&P_name=Splendid&N=4294912050+306418048+399545540&bmUID=jvVfd8k
xoxo
If you think I'm wrong about the sweats go ahead and tell me, I can handle it. All comments are welcome.